Here's how we can help
Explain the pension solutions available to you.
Provide a wide range of investments for you to choose from.
Transparent fees & charges.
Our pensions team will help with any questions you may have.
We don't
Provide financial advice.
Charge set-up or transfer-in charges.
Charge Davy commission for buying or selling investments within your pension (other fees and charges apply).
Are you
Already saving for retirement.
Just starting out.
Already retired.
Consolidating or transferring existing pensions.
A company owner or director.
Self-employed.
Investment Solutions
Manage your own investments

Choose from 7,500+ Shares across 30 international markets, 1,250+ funds and 650+ Exchange Traded Funds.
Trading Platform
Davy GPS Funds

Davy GPS Funds are 3 distinct funds which invest in other funds, managed by Davy's experts and are examples of some of the funds available for investment.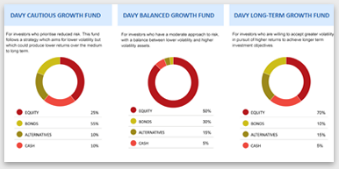 Find Out More
Warning: Information provided on the Davy Select website does not constitute investment advice as it does not take into account the investment objectives, knowledge and experience or financial situation of any particular person. You should ensure that you understand the risks associated with any investment prior to making an investment decision.
myDavy
Secure client portal which allows you to view and control your investments online
Tools to help you track, manage and make informed decisions about your investments
Award winning Davy Research
Customer Services

See our online customer service section for detailed information and videos on frequently asked questions.
Customer Services >>
We're here to help
Trading Desk 8am-9pm Mon-Fri
Customer Service 8am-5.30pm Mon-Fri
Customer Service - 01 614 8900
Pensions - 01 614 3311
Trading Desk - 01 614 9000
Pension Regulatory Information.
Davy acts as Pensioneer Trustee to EPPs.
Davy is a PRSA provider and a Qualified Fund Manager to ARFs.
Some pension risks
You are responsible for choosing the pension solution suitable to your needs and for making the investment decisions in relation to your pension. Your choices may not be the best options. There is a risk that the pension scheme may be underfunded by you and/or the value may be insufficient at retirement so that your long-term retirement needs may not be met. Tax reliefs apply to qualifying pension accounts. However, detailed eligibility criteria apply. It is important that you seek professional advice prior to making any decisions which have tax, legal or other financial implications.
Davy
We are an established name, a trusted financial brand that has inspired confidence for nearly a century.
Choosing Davy Select, you'll build on generations of award-­winning services under the Davy banner.